For a world with enjoyable and healthy food that is good for all living things and our environment: Over the past ten years, Sebastian Copien has shown thousands of people how simple and excitingly conscious cooking can be. In a small garden not far from his kitchen and event location, he grows over fifty different herbs and vegetables for his cooking classes on 16 raised beds and two permaculture beds. He is one of the founders of and a lecturer at the Plant-Based Institute in Berlin, which covers the huge gap in the further education of in plant-based nutrition for nutritional and kitchen specialists. He is also managing director of Europe's largest vegan online cooking school www.vegan-masterclass.de. We asked him ...
Dear Sebastian, your specialty is the new plant-based cooking. How long have you been vegan and why?
I would have to do the maths again, but I think now it's been about 5 years. Before that, I was vegetarian for a while until I noticed that many animals have to die for cheese because most cheeses are made with animal rennet. At some point I just asked myself whether I could kill the animal I was eating and the answer was clearly no. So I have drew my own conclusions. That's how I started using my culinary knowledge and cooking technique to develop dishes that lacked nothing in terms of taste. I have always enjoyed eating heartily and I was extremely surprised that everything I cooked there was simply delicious. And all without animals.
Now you give courses and seminars, write books and you can read about yourself here on our blog. What is your most important message to (budding) cooking professionals?
Just have fun in the kitchen. Take your time and don't see cooking as a necessary evil. Cooking can be so much more. Enjoyment and fun must always be there and simply to make people aware that we can make a contribution to environmental protection with every meal and really don't have to do without anything. Be brave, creative and step on the gas. And if you try something new or a wild idea and it doesn't taste good, you can always fix yourself a sandwich instead, but you've learned a lot (laughs).
Can you tell us your insider tip? How can you integrate outstanding cuisine into your everyday life?
The basis of outstanding cuisine is the right cooking technology and outstanding products. To hone your technique, you just have to practice and stay tuned and learn from your mistakes. There are excellent plant-based products everywhere and they don't have to cost too much. The best way to work is seasonally – buy as fresh as possible and also process as quickly as possible. A freshly picked broccoli, for example, can be so great. Steamed a little and then grilled on top again with a spicy cream. Dreamy!
Ragwear is also committed to ensuring that people and animals are treated fairly and respectfully. We deliberately do without all animal materials - because vegan production methods are possible without sacrificing quality and promise animal-free and stylish fashion.
Here on the blog you can discover important facts and valuable insights for a more conscious lifestyle every two weeks. And something to look forward to: One or two of Sebastian's delicious, vegan recipes will also be appearing from time to time.
www.sebastian-copien.de
https://www.instagram.com/sebastiancopien/?hl=de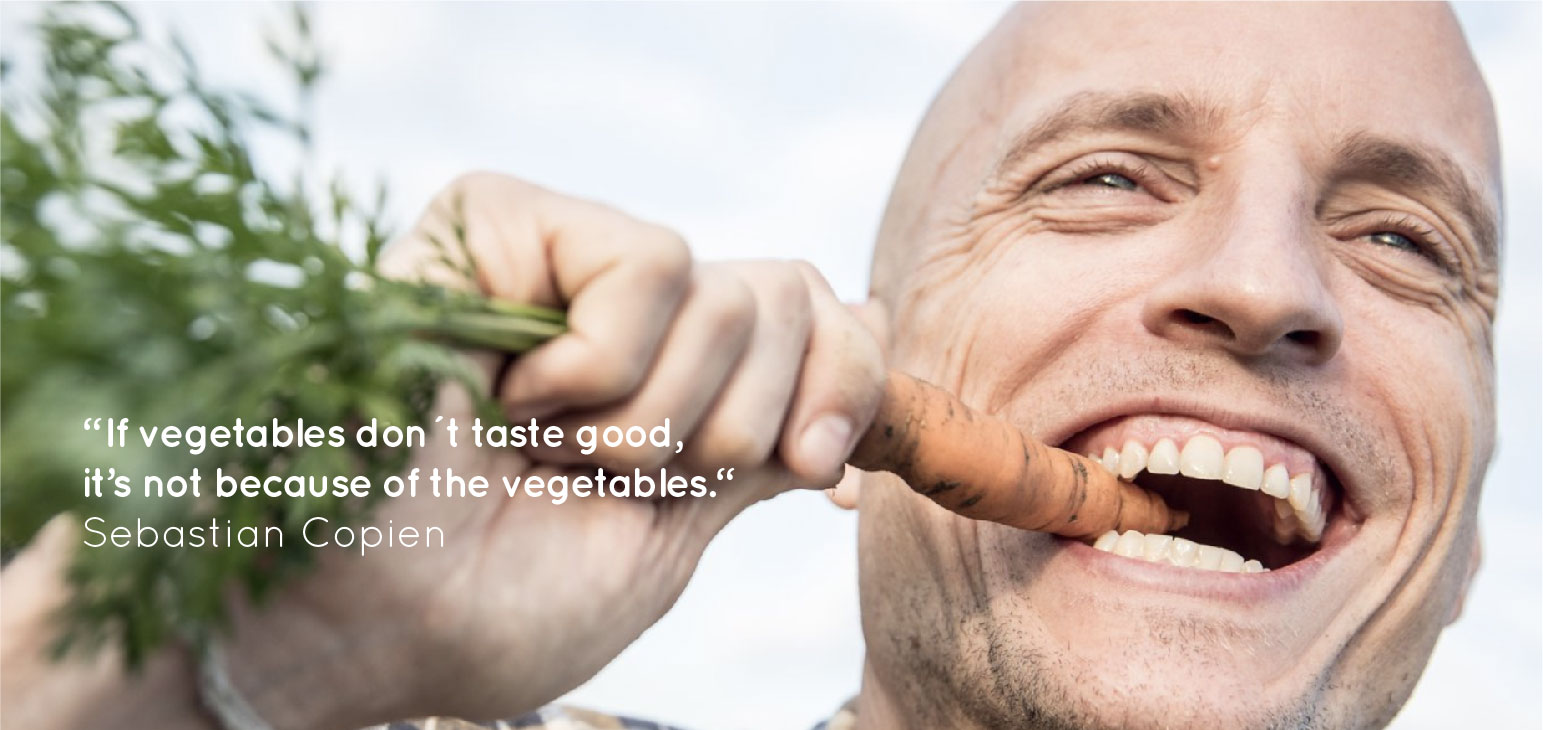 ©Hansi Heckmair / Südwest Verlag