Step by step into a responsible and sustainable future – we have started using sustainable and recycled materials, process denim in environmentally friendly production methods, have become a vegan fashion label and have improved the production and working conditions for our manufacturers. In the following we would like to tell you about our successes to date and the steps we are going to take in the future.
Sustainable materials
Our ORGANIC collection consists of the natural fabrics organic cotton (GOTS-certified) and bamboo viscose, as well as recycled polyester, which gives discarded synthetic fibres a new lease of life, thereby contributing to waste reduction. We also use durable lyocell, linen and water-conserving hemp in our favourite ragwear items.
Why do we use GOTS certified organic cotton?
The use of pesticides, fungicides and herbicides that are harmful to health is strictly forbidden when growing organic cotton. All the stakeholders in cotton cultivation benefit from this, in particular by avoiding direct contact with these aggressive chemicals. In addition, nature is not polluted by unnecessary toxins, which otherwise contaminate the groundwater and cause long-term damage to the flora and fauna in the growing areas. Across our entire range, the proportion of GOTS-certified cotton is already over 30 percent. Organic cotton is 30 to 35 percent more expensive for us to buy than conventionally grown cotton. We bear these costs and understand them as our contribution to an intact environment and an investment in the future of our planet.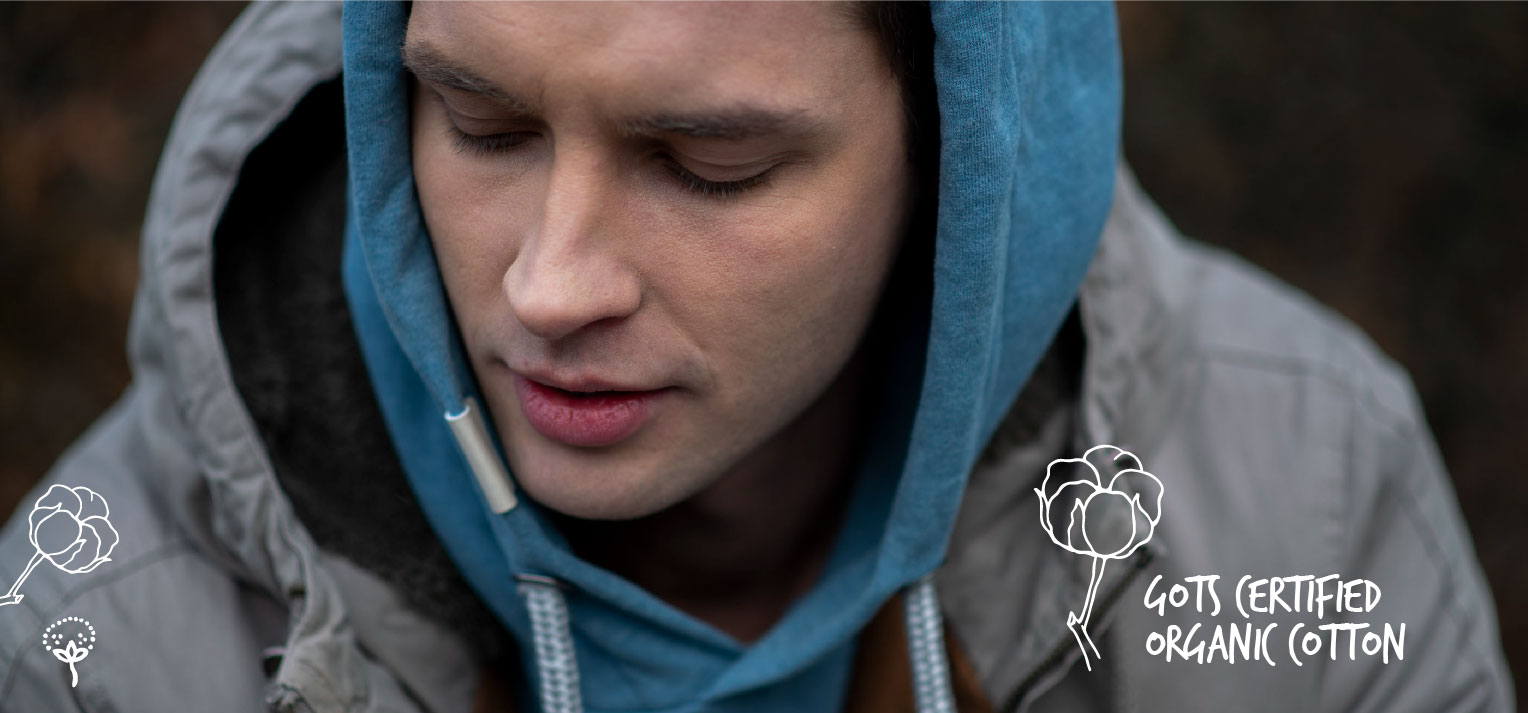 A sustainable alternative to organic cotton is bamboo viscose – an extremely fast-growing, natural raw material that is also antibacterial and therefore does not require the use of pesticides. Viscose is robust, easy to wash and has the added advantage of feeling great in contact with the skin.
We also rely on recycled polyester in our ragwear favourites. This makes an important contribution to reducing the plastic pollution on our planet. Why don't we completely do without synthetic fibres? Polyester offers a lot of positive properties that are particularly useful for the robustness, dimensional stability and heat storing capacities of our products.
The ragwear sweaters have lyocell to thank for their softness, among other things. This smooth, soft and light fibre is derived from the pulp of sustainably managed trees. Lyocell is made of vegetable cellulose and is therefore 100% biodegradable. Since lyocell production takes place in a closed cycle, hardly any materials or resources are lost. Lyocell is distinguished by its softness and excellent moisture absorption and is a comfortable, versatile and flattering fabric.
We especially like to use linen for our summer favourites. A durable fabric with a long history, made from the fibres of the flax plant. This robust fabric has a natural sheen and a slightly rough texture. Due to its breathable and highly absorbent capacities, it is commonly used to manufacture summer clothing.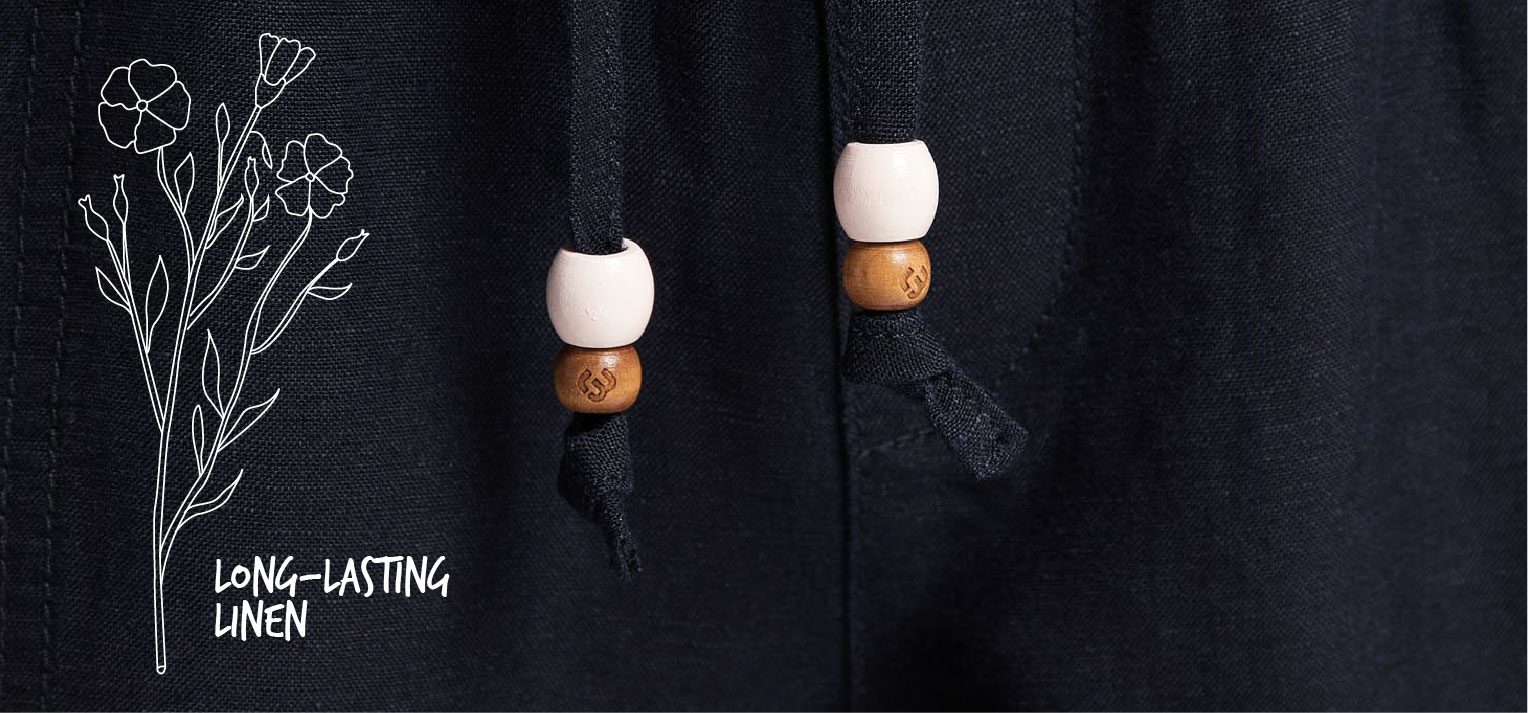 Hemp fabric is one of the most sustainable fabrics in the world. So it's perfect for our clothing production. The plant can be grown without any pesticides or chemicals, doesn't require much water and grows rapidly. The fabric combines a variety of beneficial properties, including durability and UV protection, moisture absorption and its cooling effect on the skin in hot weather. Hemp is also antibacterial and becomes softer the more you wash it.
We actively advocate more sustainable, more conscious water consumption. Unfortunately, water pollution from chemicals used to manufacture fibres and in production and textile finishing is still very common in the textile industry. Worldwide, harmful manufacturing waste water is illegally discharged into rivers, lakes and seas. In addition, there is immense groundwater pollution from the chemicals used in the cotton fields.
In order to live up to our ideals and achieve our goals, we are not afraid to find radical solutions: When, in 2007, we became aware that we could not guarantee that we could produce high-quality and attractively priced jeans resource-consciously enough to meet our own high standards, we discontinued our line of jeans. It is only now that we have found partners who implement processes that meet our high production requirements, so we are gradually adding denim products to our range. Anyone wanting to assume corporate responsibility also has to be prepared to make unpleasant decisions and live with the consequences.
No more environmental pollution from plastic waste!
The textile industry is responsible for too much unnecessary plastic waste. We want to take on our share of responsibility and have set ourselves the goal of using only biodegradable and compostable packaging materials. Until we have changed our entire logistics process, we already use bags that consist of more than a third of degradable corn starch.
Genuine partner(ship)
From the development of our materials to the finished product – we have been working closely with the same producer in Shandong for over 15 years. We have grown together through solving problems and are now genuine friends who are there for you, offering advice and support. Among other things, we share a desire to improve the clothing industry and its working and production conditions. In-house daycare centres, the holistic appreciation of workers and extensive workplace protection measures form the basis of this cooperation. To us and our local partners, it is self-evident that child labour, discrimination, exploitation without payment and excessive or unpaid overtime must be excluded.
It may be that there are suppliers who are already better positioned than our partner in Shandong when it comes to environmental and social standards. However, we made a conscious decision not to look for a new partner, but to take the more cumbersome route of improving together, step by step. We want our producers and their employees to share in our success, grow together and improve environmental and social standards together. Even if this path may take a little longer.