As a loyal ragwear customer you probably know about all symbols, signs and messages which our designers create for each of our ragwear pieces. Our passion is to make you feel loved while wearing our clothes. And love is in the details. Therefore, we pay special attention to them. Most of our beautiful buttons and labels are visible on first sight, but some are also hidden inside. It's like a hide and seek game. Are you able to find them all?
In this article, we want to explain some of the meanings behind our signs. We also introduce you to hidden labels that you may haven't seen on your favourite ragwear piece before. Those patches are our signature marks that turn every ragwear piece into an original.
Labels, Buttons, Patches and Messages
Every season we define a new theme and follow this concept by positioning new symbols, labels and buttons etc. on our clothes. All material we use is natural which matches with our philosophy. You will not find a single component coming from animals on our clothes. Buttons are made from wood and coconuts; labels are made from vegan leather, artificial suede or cotton with metal details. All trimming is customized for us only.
Hidden labels in ragwear men's collection
Our female collection is bigger than the male part. But that does not mean that we pay less attention to it. Our men's collection is completely designed by Lenka and Antonín in Prague and they are also the creative minds behind all the details. Their attempt is to hide funny and easy-going messages that you will discover only after a while. It will probably make you smile to spot the label "Shirt-less" on your Shirt.
Our favourite men's label is the skyline of Prague, including the Charles Bridge and the Prague Castle. You can find it for example in our T-shirt JACHYM. Have you ever been to Prague?
The summer shorts KAREL MELANGE and WUNN will keep you in the right temperature with messages like "Stay cool" or the illustration of a sailing boat on the front button.
ragwear women's collection is all about love
The labels in our women's collection are all about spreading love and positivity. You will find hearts, birds or exotic flowers. Women's designer Anna showed us some of the new labels for the upcoming collection. Stay tuned to find the beautiful "I wear love" sign in our Zuzka Flowers jacket (Soon to be released).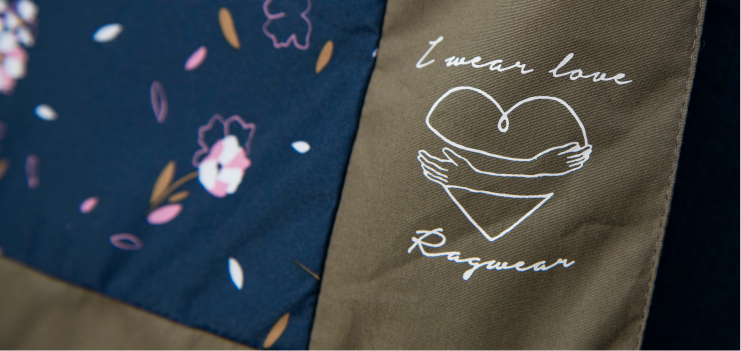 Ragwear loves female power. Therefore, one of our most important symbol is the VENUS FLOWER. Based on the ancient goddess Venus, the five-petalled star-shaped flower represents a balance in the areas of partnership and self-love, trusting relationships, harmony and femininity. It is placed for example on the delicate buttons of ANGEL ZIG ZAG or DARIA ZIG ZAG.
Another detail that you might have noticed is the number 528 combined with the words LOVE FREQUENCY. The 528Hz frequency is assigned to our heart and therefore supposed to make us feel good.
During the last years the rainbow increased its popularity especially in social movements. We love the power that is created by the combination of strong colours! It speaks for happiness, new revolution and pride.
We love our delicate ANCHOR buttons. It brings marine vibes into our collection and reminds us of Hamburg's port. Don´t you think?
If you want to know even more details you can have a look into the articles of FLOWER OF LIFE and PEACE DOVE.
Nature vibes in ragwear's organic collection
Our organic collection is deeply connected to nature and therefore marked by a tiny green dot on the label. Inside of the garment you can find green neck tapes. The patches contain messages like "In Earth we trust" or prints like "Make the change for better" for the new hemp line.