Als treuer ragwear Kunde kennst du wahrscheinlich alle Symbole, Zeichen und Botschaften, die unsere Designer für jedes unserer ragwear Teile kreieren. Unsere Mission ist es, dass du dich beim Tragen unserer Kleidung geliebt fühlst. Und Liebe steckt in den Details. Deshalb widmen wir ihnen besondere Aufmerksamkeit. Die meisten unserer schönen Knöpfe und Label sind auf den ersten Blick sichtbar, einige sind jedoch im Inneren versteckt. Hast du schon alle Labels gefunden oder bist du noch auf der Suche?
In diesem Artikel möchten wir einige der Bedeutungen erklären, die hinter unseren Zeichen stehen. Außerdem stellen wir dir ein paar versteckte Label vor, die du vielleicht noch nicht an deinem Lieblingsteil entdeckt hast. Die Patches sind unser Markenzeichen, die jedes ragwear Stück erst zu einem Original machen!
Label, Knöpfe, Patches und Botschaften
In jeder Saison definieren wir ein neues Thema und entwerfen dazu neue Symbole, Etiketten, Knöpfe usw. für unsere Kleidungsstücke. Entsprechend unserer Philosophie sind alle verwendeten Materialien natürlich. An unserer Kleidung findest du keine einzige Komponente, die von einem Tier stammt. Knöpfe werden aus Holz und Kokosnüssen hergestellt; Etiketten bestehen aus veganem Leder, künstlichem Wildleder oder Baumwolle mit Metalldetails. Alle Details werden speziell für uns hergestellt.
Versteckte Label in der Herrenkollektion von ragwear
Unsere Frauen-Kollektion ist umfangreicher als die der Männer. Das heißt aber nicht, dass wir weniger auf sie achten. Unsere Herrenkollektion wird von Lenka und Antonín in Prag entworfen. Sie sind auch die kreativen Köpfe hinter allen Details. Sie versuchen, lustige und unkomplizierte Botschaften zu verstecken, die du erst nach und nach in deinen Lieblingsteilen entdeckst. Vermutlich wird es dich zum Lächeln bringen, wenn du z.B. das Label "Shirt-less" in deinem Hemd entdeckst.
Unser Lieblingslabel für Männer ist die Skyline von Prag, einschließlich der Karlsbrücke und der Prager Burg. Du findest es zum Beispiel in unserem T-Shirt JACHYM. Warst du schon einmal in Prag?
Die Sommershorts KAREL MELANGE und WUNN erfrischen dich z.B. mit Botschaften wie "Stay cool" oder der Illustration eines Segelboots auf dem vorderen Knopf.
Bei der ragwear Damenkollektion dreht sich alles um Liebe
Bei den Labels in unserer Damenkollektion geht es darum, Liebe und Positivität zu verbreiten. Auf den Buttons kannst du Herzen, Vögel oder exotische Blumen entdecken. Die Designerin Anna hat uns ein paar der neuen Labels für die kommende Kollektion gezeigt. Zum Beispiel das schöne "I wear love"-Zeichen in unserer neuen Zuzka Flowers-Jacke (bald erhältlich).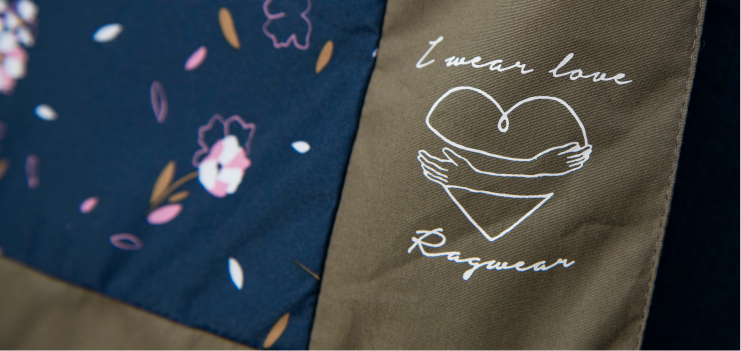 Ragwear liebt Frauenpower. Eines unserer wichtigsten Symbole ist daher die VENUSBLUME. Basierend auf der alten Göttin Venus repräsentiert die fünfblättrige sternförmige Blume Balance in den Bereichen Partnerschaft, Selbstliebe, vertrauensvolle Beziehungen, Harmonie und Weiblichkeit. Du findest sie z.B. auf den zierlichen Knöpfen von ANGEL ZIG ZAG oder DARIA ZIG ZAG.
Ein weiteres Detail, das du vielleicht schon kennst, ist die Nummer 528 in Kombination mit den Worten LOVE FREQUENCY. Die Frequenz 528Hz ist unserem Herzen zugeordnet und soll uns daher ein positives Gefühl vermitteln.
In den letzten Jahren hat der Regenbogen vor allem in sozialen Bewegungen an Popularität gewonnen. Wir lieben die Kraft, die durch die Kombination der kräftigen Farben entsteht! Sie stehen für Glück, Revolution und Selbstbewusstsein.

Wir lieben unsere zierlichen ANKER-Knöpfe. Sie bringen Meeresstimmung in unsere Kollektion und erinnern uns an den Hamburger Hafen. Was meinst du?
Wenn du noch mehr über unsere Details erfahren möchtest, kannst du dir die Artikel von FLOWER OF LIFE und PEACE DOVE ansehen .
Naturvibes in der ragwear Organic Kollektion
Unsere Organic Kollektion ist eng mit der Natur verbunden und daher durch einen winzigen grünen Punkt auf dem Label gekennzeichnet. Außerdem zieren grüne Nackenbänder den inneren Kragen. Die Patches enthalten Botschaften wie "In Earth wie trust" oder Drucke wie "Make the change for better" in der neuen Hanflinie.